Statesman SKMS0820DSS Solo Digital Microwave, 20 Litre, Stainless Steel, Silver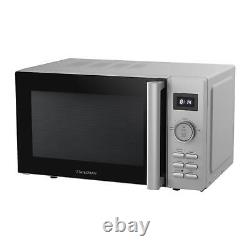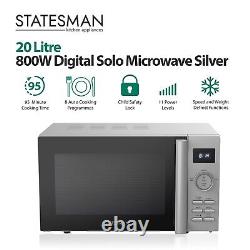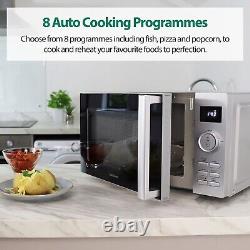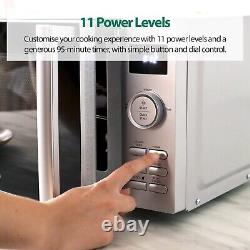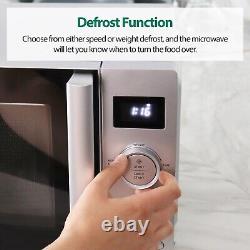 Statesman SKMS0820DSS Solo Digital Microwave, 20 Litre, Stainless Steel. The 20 Litre Digital Solo Microwave from Statesman is compact and packed with features to streamline the food preparation process. With a choice of smart black or sleek silver finish, this microwave will look the part on any kitchen countertop, whilst the stainless steel cavity helps to increase the efficiency of cooking, as well as lengthens the life of the microwave when compared to painted cavities. Choose from 8 auto cooking programmes, including fish, pizza, and popcorn, to cook and reheat your favourite foods to perfection, while the Quick Start function enables you to begin the cooking process at the touch of a button. For a more customised cooking experience, choose from 11 power levels and a generous 95-minute timer to make sure meals are always prepared exactly as you like them. The simple button and dial control takes the confusion out of programming, and the clear LED digital display in white is functional as well as stylish.
Need to quickly defrost something for dinner? Choose either speed or weight defrost, select the desired weight or time, and the microwave will let you know when to turn the food over to ensure even defrosting. As well as all these powerful programmes, the 20 Litre Digital Solo Microwave also comes equipped with useful features such as a mute function (perfect for midnight snacks) and child safety lock to keep little fingers from disrupting the microwave's operation.
COMPACT AND CONVENIENT: The Statesman SKMS0820DSB is a 20-litre solo digital microwave that offers a compact design, making it perfect for smaller kitchens or dorm rooms. POWERFUL AND VERSATILE: With 800 watts of cooking power and 11 adjustable power levels, this microwave can handle a wide range of cooking tasks, from defrosting to reheating and cooking. EASY COOKING: It features 8 auto cooking programmes that simplify meal preparation. Just select the desired program, and the microwave will automatically adjust the time and power for optimal results. PRECISE COOKING CONTROL: The 95-minute cooking timer provides precise control over your cooking, allowing you to set the exact cooking time for your dishes.
SLEEK DESIGN: The black exterior and digital display give the microwave a modern and stylish appearance that complements any kitchen décor. Deliveries are always Monday - Friday (excluding bank holidays) from 7am - 7pm approx. Sorry, but we can't specify a time for deliveries. Any special instructions we will need to be notified of at the time of placing your order. All orders are processed Monday - Friday. Next day orders need to be placed by 2.30pm. Next day orders received on Friday, will be delivered on Monday, excluding bank holidays. Next day orders placed on Saturday and Sunday will be delivered on Tuesday.