Gorenje BCM547S12X Combined Compact Microwave Oven with Real Fan Oven Function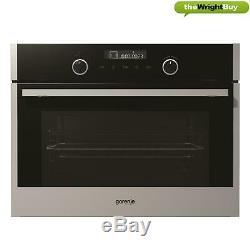 HomeMade shape, All the qualities of baking in wood-burning ovens. TouchFree coating, Shiny and fingerprint-free finish. FastPreheat: Charmingly fast, saving time and energy. MultiUse: Microwaves, hot air and grill at your disposal. Please make sure you supply a valid contact number - Orders without a valid number will be delayed! Gorenje BCM547S12X Combined Compact Microwave Oven with Real Fan Oven Function. HomeMade shape All the qualities of baking in wood-burning ovens The characteristic rounded shape is one of the most beneficial features of Gorenje ovens.
Inspired by traditional wood-burning ovens, it enables hot air to move around freely. Since the food is heated evenly and from all sides, it is always perfectly done: crispy on the outside and juicy on the inside. In superior models of ovens this shape is combined with the MultiFlow 360 ventilation system, which enables baking on all 5 levels.
MultiFlow 360 All sides are good sides MultiFlow 360° guarantees the optimal circulation of heat within the oven. Due to smartly positioned ventilation openings on the back wall and the unique round shape, air is spread evenly throughout the oven. The fan pushes hot air around the entire oven volume, making the food perfectly baked on all sides.
The dynamic air movement allows simultaneous baking on many levels without smells and flavours mixing together. SilverMatte Ultra resistant, ultra smooth coating Enamel quality and type are exceptionally important for the oven and its operation. SilverMatte is a highly resistant and strong material that can stand extreme heats, even pyrolytic cleaning at 500 °C. Free from micro pores, it coats oven surfaces and baking trays, making them resistant to the highest temperatures, microwaves and steam. The triple coating of the interior supports heat reflection and provides additional insulation. Therefore, the oven interior always stays sterile and safe. DC+ System Effective heat management The DynamiCooling system efficiently cools the oven exterior (or housing) to prevent any damage caused by high temperature.
In ovens with the DynamiCooling+ system, the heat sensors regulate the cooling of the oven exterior walls until they reach a temperature of 60 °C. This is particularly convenient in ovens with the pyrolytic cleaning function which works with extremely high temperatures. TouchFree coating Shiny and fingerprint-free finish All stainless steel surfaces are coated with a special TouchFree film that prevents fingerprints markings, leaving the surface always shiny and making cleaning much easier. FastPreheat Charmingly fast, saving time and energy The oven reaches a temperature of up to 200C in just 6 minutes, saving 30 % of the time needed by standard preheating.
This comes in handy for recipes that require a preheated oven. A light and sound signal informs when the temperature is right. MultiUse Microwaves, hot air and grill at your disposal Built-in combined and microwave ovens deliver all the advantages of microwaves, hot air, and grill.
The five-level microwave power setting speeds up the cooking process while the hot air makes sure the food is well done. Combined operation, using grill and hot air at the same time, leads to excellent results when cooking large chunks of white meat, while grill and microwave combination will speed up roasting smaller chunks of meat, baking pizzas etc.
Built-in microwave oven can also be used as a conventional oven. Handle colour: Colour of brushed stainless steel. Control panel material: Glass and stainless steel. Usable oven volume: 50 l.
Combined microwave oven - 50 l SuperSize baking area. Removable flat oven inner door glass surface.
HomeMADE® modelled on traditional wood-fired bread oven. Knob shape: Illuminated sinkable knobs. Lower heater with circular heater and fan. Baking on different levels at the same time. Dynamic oven cooling plus - DC+. Triple glazing with a protective grid. Grill power: 2,200 W. Frequency microwave power: 2,450 MHz. Microwave power: 1,000 W. Dimensions (W×H×D): 59.5 × 45.5 × 54.6 cm. Dimensions of packed product (W×H×D): 63.5 × 54.1 × 68 cm. Niche dimensions (WxHxD): 56 × 45 × 55 cm. Net weight: 33.8 kg.
Gross weight: 38.1 kg. Consumption in standby mode: 1 W. Connected load: 3,000 W. The item "Gorenje BCM547S12X Combined Compact Microwave Oven with Real Fan Oven Function" is in sale since Friday, November 22, 2019.
This item is in the category "Home, Furniture & DIY\Appliances\Small Kitchen Appliances\Microwaves". The seller is "thewrightbuyltd" and is located in Haverhill.
This item can be shipped to United Kingdom.
Type: Built-in
Brand: Gorenje
Model: BCM547S12X
Power: 1000W
Colour: Silver
Capacity: 17L
MPN: BCM547S12X
Material: Silver
Features: Convection
Finish: Silver
EAN: 3838942050725
Installation: Built-in