AEG KMK565000M Combination Microwave Built In in Stainless Steel GRADE A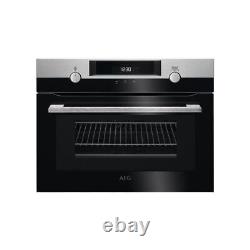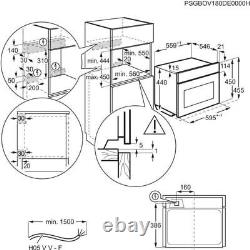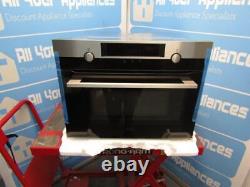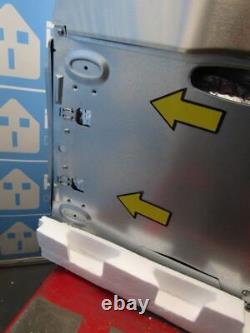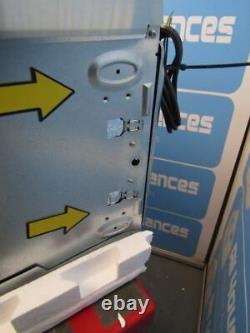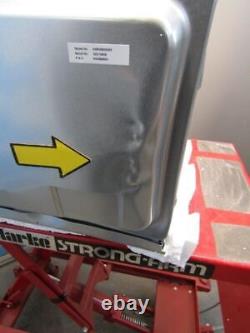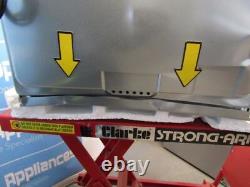 This graded AEG KMK565000M Built In Combination Microwave is brand new with light blemishing to the casing. AEG KMK565000M Combination Microwave Built In in Stainless Steel GRADE A offers the convenience of a microwave combined with an oven. With a powerful 900W of microwave power and 1100W of grill power, it is perfect for quickly heating or defrosting meals. The stainless steel design adds a modern and stylish look to any kitchen. Diamond-glazed enamel interior: A smooth enamel interior for ease of cleaning, cooking residues can be easily wiped away immediately after cooking.
Isofront® Plus quadruple glazed door: Isofront® plus quadruple glazed door. Multi-layered glass panes, with heat reflective coating to keep the heat in the oven. Fan controlled defrosting: Suitable for delicate items such as cream cakes, this light defrost circulates room temperature air around the food slowly, defrosting it hygienically in less than 1/2 the time!
Anti-fingerprint stainless steel: This stylish finish takes the elegance and lustre of stainless steel one stage further, eliminating unsightly finger prints and ensuring your oven looks effortlessly clean. Microwave: Designed to combine outstanding performance with optimum user friendliness and cooking flexibility.
Conventional cooking: Heat from the top and bottom elements provide traditional cooking with zones heat. Ideal for baking bread and cakes, as the oven becomes hotter at the top. Top heat browning: Heat from the top element only, ideal for browning lasagne or shepherd's pie. Base heat finishing: Heat from the bottom element only. Perfect for reheating pies and pastries as it keeps the pastry crisp.
It can also be used on warm plates. Child lock for added safety: Oven controls can be locked to prevent misuse, providing safety and peace of mind. Temperature range: 30C - 230 C. Maximum Microwave output (W): 1000. Total electricity loading, W: 3000.
Energy consumption, conventional mode, kWh per cycle: 0. Energy consumption per EU standard cycle: 0.