Cookology BM20LIX Built-in Microwave in S/Steel Integrated 20 Litre, 800W, 20L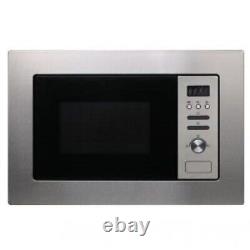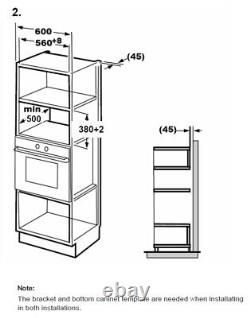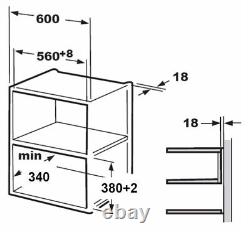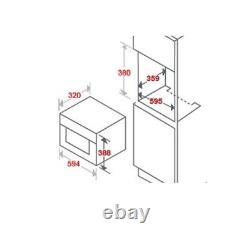 Cookology Microwave with Stainless Steel Frame. Please Check the Dimensions & Technical Drawings before Ordering. If you are replacing your Microwave, make sure you know the Cavity Size it is going into, particularly the height and the depth. This BM20LIX Built-in Microwave with its beautiful, quality Stainless Steel Frame Kit will instantly transform your Kitchen's look and feel. A Built-in Microwave makes you kitchen seem more stylish, less cluttered and higher value, because the Microwave becomes part of the kitchen rather than looking out of place on the counter and taking up valuable room. The BM20LIX has a massive 20 Litre Capacity with a 24.5 cm Turntable - large enough for most plates so you shouldn't need to hunt for a suitably sized plate every time you want to heat something up. As well as an Autocook Menu, Auto Defrost function and 95 minute Cooking Timer, this Microwave boasts a Child Lock making it ideal for families with Kids. This Microwave Comes with a Frame Kit that makes for Easy Installation into a Kitchen Cavity / Cupboard. It also comes ready with a 3-Pin British Plug and is CE Certified. Quick Start Function (30 Seconds, Full Power).
Multi-Section Cooking - this allows you to for example Program the Microwave to first Defrost food for an amount of time and then start cooking when its done. 4mm Gap between Microwave and Frame. Depth: 320mm (plus 20mm for Trim). Cavity Dimensions (please also see technical drawing). Minimum Depth: 500mm when building above a Built-in Oven / 340mm when not building above a Built-in Oven.
8 auto-programs - Simply select the Food type and the Weight! Cookology Retro Microwave in Cream RETMA20LCR 20L 700W Freestanding. Cookology CMAFS20LSL 20L Silver Microwave, 800W Freestanding.
Cookology CFSDI20LWH Digital Microwave in White, 20L 800W Freestanding. Cookology CFSDI20LBK Digital Microwave in Black, 20L 800W Freestanding. Our offices are open Monday to Friday 09:00 to 17:00, so if you have any queries you can give us a call. Have you seen our Cookology range? In 2011 we created our own brand of appliances, bringing high end features like induction hobs and pyrolytic cleaning to households across the country.
VAT is charged at the standard UK rate. Any variation in the VAT rate will apply automatically. SMALL ITEMS: (normal cooker hoods, hobs etc) are quickly despatched on an all day courier service, Monday to Friday, 09:00-17:00. Other access issues include Stairs and Parking.
As per WEEE regulations, you can send your appliances to us and we will ensure they are safely disposed of. Please Clearly Label your item as "WEEE RECYCLING" and send your items to.
Unwanted electrical equipment is the UK's fastest growing type of waste. Many electrical items can be repaired or recycled, saving natural resources and the environment. If you do not recycle, electrical equipment will end up in Landfill where hazardous substances will leak out and cause soil and water contamination - harming wildlife and also human health. What is the Crossed Out Wheeled Bin Symbol?
To remind you that old electrical equipment can be recycled, it is now marked with a crossed-out wheeling bin symbol. Please do not throw any electrical equipment (including those marked with the crossed out wheeled bin symbol) in your bin. The Waste Electrical or Electronic Equipment (WEEE) Directive requires countries to maximise separate collection and environmentally friendly processing of these items. We reserve the right to request photographic evidence of the product(s) and/or packaging and sending this to us immediately will help us to deal with any problems quickly.
Under no circumstances should you install your appliance if you notice damage. By installing an item you are accepting the product and cannot claim for damage after installation. If any faults arise after installation, please contact our customer service team who will be pleased to help. The guarantee will not apply however if the fault arises from misuse or excessive wear and tear. S instruction book and follow the fault-finding guide.
When installing a gas appliance a qualified Gas Safe engineer is required, all appliances will need to be installed by a qualified tradesperson, who will have the correct certification. We reserve the right to request an installation certificate for Gas appliances.
Where an item needs to be "hard-wired" by a qualified electrician, we reserve the right to request an installation certificate to make sure the fault was not caused by a "DIY" installation. All goods must be paid for in full prior to dispatch from our warehouse. Cards that are registered to a UK Address. Please do not book someone to install your kitchen appliance until your item has arrived in good condition - we cannot be held responsible for delays due to unforeseen circumstances including but not limited to: accidents, traffic and weather. All Items must be signed for and inspected immediately.
You can collect items from our Warehouse. The item must be paid for when you collect the item via Chip&Pin or Cash. You cannot pay for an item via the website or telephone and then collect. We do not currently install appliances; however we are looking into this and hope to offer a service in the future.
Carefully unpack your item, keep all packaging and remember how your item was packed. Carefully check the entire item for damage as soon as you can.
We reserve the right to request photographic evidence of the product(s) and/or packaging prior to collection. Do not attempt to install your appliance if you notice damage. If it becomes apparent that the item has been installed prior to us being informed that it is damaged, we will assume that the item was damaged during installation. The main reason why we cannot be held responsible for damage or missing items that are reported after 48 hours, is that after this time frame we will not have time to make a valid claim with our suppliers or couriers.
We promise that we will try to match any price - this is not a guarantee. Faulty goods that have been installed will result in a guarantee claim even if you have just bought the appliance as we need to make sure it was installed correctly.
The guarantee will not apply however if the fault arises from excessive wear and tear. They will either be able to fix the fault or declare the appliance unserviceable. This uplift number enables us to arrange for a collection and/or a replacement. When installing a gas appliance a qualified Gas Safe engineer is required, all appliances will need to be installed by a qualified and insured trades person, who will have the correct certification. Should you wish to cancel your order please contact our customer services team to discuss returning your item at your own cost. Please be aware you have a duty of care for the goods whilst they are in your position.
If you have not reported damage or missing items within 48 hours of the items being delivered, we will deem the product to have arrived in perfect condition. We recommend you insure your item with the courier. Prior to ordering your item, make sure you have consulted a qualified trades person to check that what you are ordering is the right dimensions and type. Has been used solely for domestic purposes and is on domestic premises; i. Not for commercial or trade use.
Has been used solely in accordance with the instruction book. Where the engineer finds no fault, or where the fault originates with the customer wrong installation etc. We use cookies to anonymously track sales information and do not use intrusive cookies for targeted advertisement.
Acceptance of your order and the completion of the contract between you and us will take place when the goods are despatched, unless we have notified you that we do not accept your order or that you have cancelled it. The product that is delivered may vary slightly from the image supplied by the manufacturers and may not include any of the pictured accessories. We have the right to refuse or cancel any orders listed at the incorrect price whether or not the order has been confirmed. Descriptions relating to products are a guideline. Prices and availability are subject to change without prior notice. We cannot accept liability for any consequential loss of profit or indirect losses. We cannot warrant or represent that they comply with any legal requirement outside of the UK. Claims for promotional warranties must be registered within the set time according to the Manufacturers Terms & Conditions. English law applies to this contract and any dispute will be dealt with exclusively in the English Courts. These Terms and Conditions do not affect your statutory rights in any way. This listing is currently undergoing maintenance, we apologise for any inconvenience caused.