Statesman SKMC0930SS Digital Combination Microwave, Stainless Steel, Silver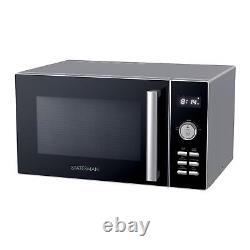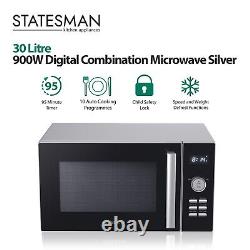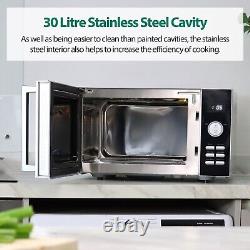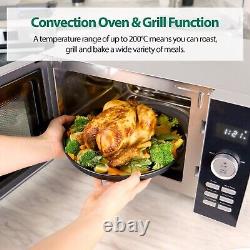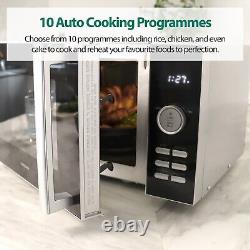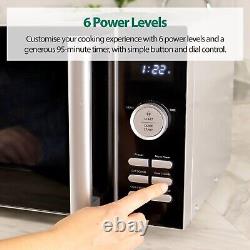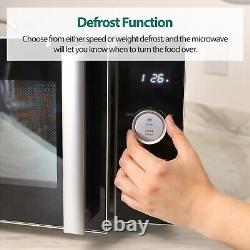 Statesman SKMC0930SS Digital Combination Microwave, Stainless Steel, Silver. Looking for a microwave that does a little bit more? Statesman's 30 Litre Digital Combination Microwave has all the features you'd expect from a microwave, with the added benefit of grill functionality and 2200W of convection oven power.
Ideal for families, the generous 30 litre cavity is large enough to cook a range of different meals, and the stainless-steel coating makes the cooking process as efficient as possible. Use the defrost function to quickly and safely thaw meals when you're in a hurry; simply input the weight of the food and the microwave will remind you when it's time to turn the food over for an even defrost. 10 auto cooking programmes give you the convenience of preparing a vast range of dishes in no time, including spaghetti, pizza, potatoes and chicken, while the grill function allows you to achieve the perfect toasted sandwich, cheesy lasagne, or succulent grilled vegetables. Take microwave meals to the next level by utilising convection oven cooking; the temperature can be set up to 200°C, allowing you to bake and roast meals just as you would in a traditional oven.
Rustle up crispy potatoes, pasta bakes, cakes, and even fluffy warm bread with ease, perfect for busy families and entertaining. Statesman's 30 Litre Digital Combination Microwave is rounded off with a host of functions to give you peace of mind, including child lock, button adhesion protection, as well as overheating, low temperature and sensor malfunction protection. Whether you prefer the chic black or silver finish, this microwave will compliment any modern kitchen whilst making mealtimes easier. VERSATILE COOKING OPTIONS: This digital microwave offers a combination of microwave, grill, and convection cooking functions, providing versatility for various cooking needs. 900W COOKING POWER: With 900 watts of cooking power, this microwave efficiently handles tasks like defrosting, reheating, grilling, and baking, ensuring your meals are prepared quickly.
AUTO COOKING CONVENIENCE: Featuring 10 auto cooking programmes, this microwave simplifies meal preparation. Select a program, and the microwave will automatically adjust cooking time and power for optimal results. PRECISION COOKING TIMER: The 95-minute cooking timer allows you to set precise cooking times for your dishes, ensuring consistent and reliable results with every use. SPACIOUS 30-LITRE CAPACITY: With a generous 30-litre interior, this microwave can accommodate larger dishes, making it suitable for family meals and entertaining. Its sleek black design adds a modern touch to your kitchen.
Deliveries are always Monday - Friday (excluding bank holidays) from 7am - 7pm approx. Sorry, but we can't specify a time for deliveries. Any special instructions we will need to be notified of at the time of placing your order.
All orders are processed Monday - Friday. Next day orders need to be placed by 2.30pm.
Next day orders received on Friday, will be delivered on Monday, excluding bank holidays. Next day orders placed on Saturday and Sunday will be delivered on Tuesday.