Panasonic NN-CF778SBPQ XL Size Combination Microwave Oven1000W Stainless Steel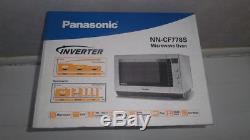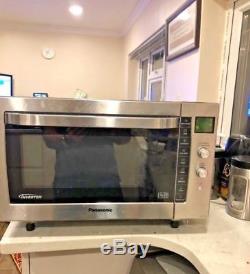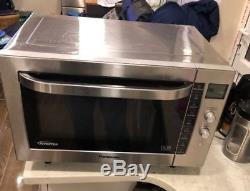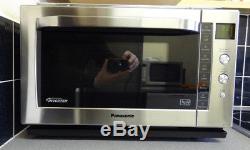 Panasonic Microwave Oven NN-CF778SBPQ Review. Previous Panasonic microwave ovens have come under some scrutiny. Most of which have been laid to rest with the new and improved Panasonic NN-CF778SBPQ.
It lets you do more than most Panasonic microwave ovens have done in the past and all with more convenience too. Making dishes such as tandoori chicken, roast lamb, roasted potatoes, to superbly grilled fish the Panasonic NN-CF778SBPQ makes it a breeze and gives you the professional results that you could normally expect from a fine cuisine, all from the comfort of your own kitchen. While its listed as a microwave oven, it does have the convection oven and grill built into it. The instructional book supplied with it along with the recipe book, explains the 13 different preprogrammed functions, and what theyre best used for.
With the square enamel shelf, as opposed to the turntable in older Panasonic microwave ovens, you get the added convenience of using the whole interior of the oven, without sacrificing on space. What you get in the box. 1 x Microwave oven (27 L capacity). 1 x Square enamel shelf. 1 x Square wire shelf.
1 x Square glass tray. 1 x Anti spark ring. Its ideal for proving bread and giving a crispy crunch to your pizza bases. Something that can be difficult to accomplish with other microwave combos.
Key details of the Panasonic Microwave Oven. One thing to note here is that while its listed as being 531 mm in width, you are going to need a larger space to house the microwave. For safety reasons, the unit needs adequate ventilation of 5 cm for the left vent and an additional 10 cm for the vent on the right hand side. If your kitchen has a built-in standard housing of 60 cm for a microwave oven, then this isnt going to fit.
Youll need at least 66 cm for housing the microwave. No turntable, so you get to use the entire interior of the oven. Micro and convection settings, can be used for cooking on 2 levels with the supplied metal shelving. Quartz grill requires no additional time to preheat, making it more economical than traditional grills (Ideal for browning the top of a shepherds pie or grill a bit of fish). Simple to use power levels, for defrosting and cooking on low, medium or high settings.
Some other Panasonic microwave ovens use percentages to select the power settings, which can be difficult to calculate. The Panasonic NN-CF778SBPQ uses straightforward power level settings. The watts for each power level are supplied in the user manual. Unlike older Panasonic microwave ovens, that used auto-sensor technology, when you had to wait to find out how long your dinner would take to cook, you can simply key in the weight of your meat, chicken, fish or pies, and the display screen will immediately display your cooking time. Has an energy saving standby mode that only uses only 0.1 watts. Of all the Panasonic microwave ovens, this is by far one of the most enhanced combo ovens to date. With the square racks, you can prove your bread, bake crispy pizza bases, and roast more potatoes than you would with any other combo microwave that uses a turntable.
You can also benefit from the economical Quartz grill that requires no additional heat up time, such as older Panasonic microwave ovens sometimes required. With the Panasonic NN-CF778SBPQ , you simply select your setting and its ready to go. Product information If you have lots of oblong cookware youll appreciate the family-sized Panasonic NN-CF778SBPQ combination microwave. It has no turntable enabling larger dishes to be fitted, all without any compromise on cooking performance.
Theres even a drop down door, allowing you to easily insert and extract your culinary masterpieces with little effort. Combining the efficiency of a microwave with the traditional browning and roasting from a conventional oven and grill, it includes 19 auto programmes including chaos defrost. Its easy to use with a helpful auto guide feature, and combines a 1kW oven with a 1.3kW quartz grill.
Includes a self cleaning catalytic back lining, auto weight cook/reheat and pop-up controls. Available to view in our shops.
This product is available to view in most of our shops. Please call your local branch to find out if it's currently on display. It has loads of features (many I dont use but probably should) and is easy to operate and clean.
The internal light is bright and the window means you can clearly see if the porridge is boiling over! I haven't used the Combi feature yet, however the internal size isn't sufficient for my'family oven' needs. Overall a great microwave and probably perfect Combi for a small family or couple.
The removal of the turntable to provide far greater, flat, useable space inside the product is a big improvement and means you get the bonus of smaller exterior dimensions. Very pleased with the functionality and usability of this product. I was concerned that the lack of a turntable would be a drawback but if anything it is an advantage even using microwave only. Dual level cooking is successful. All in all up to the very high standard of Panasonic products.
The item "Panasonic NN-CF778SBPQ XL Size Combination Microwave Oven1000W Stainless Steel" is in sale since Wednesday, March 7, 2018. This item is in the category "Home, Furniture & DIY\Appliances\Small Kitchen Appliances\Microwaves". The seller is "mis_ks_gm7glw6yv" and is located in Dagenham. This item can be shipped to United Kingdom.
Main Colour: Silver
Material: Stainless Steel
Brand: Panasonic
Model: NN-CF778SBPQ
MPN: NN-CF778SBPQ
Capacity: 27L
Type: Countertop
Power: 950W
Features: Grill
Power Levels: 6