Stainless Steel Kitchen Work Bench Food Prep Catering Table Microwave Oven Rack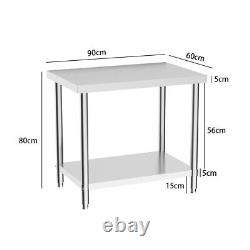 2-6FT Stainless Steel Commercial Catering Table Work Bench 2 Tiers Workstation. 100% Brand New and High Quality! Stainless steel work table, durable for lifetime use; the smooth surface is anti-rust and corrosion-resistant, easy to clean. Is great for food preparation and is a good choice for kitchen, hotels, restaurants, bars, garage, etc.
Our kitchen work table has 2 shelves/with backplash up and down to provide you with more storage space. Be ready to keep your workspace more organized with the high weight capacity under shelf. 1200 x 600 x 800mm/4X2FT 1500 x 600 x 800mm/5X2FT 600 x 600 x 800mm/2X2FT 900 x 600 x 800mm/3X2FT 1800 x 600 x 800mm/6X2FT. Olor:Silver Grey Package Included.