ElectrIQ EIQMOGB120BLACK 20L Built in Microwave with Grill Black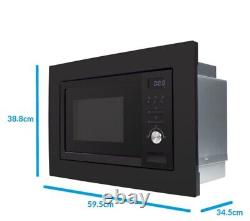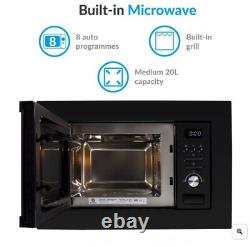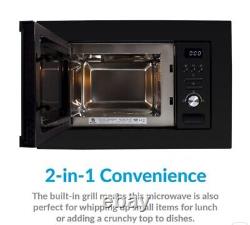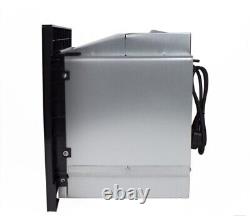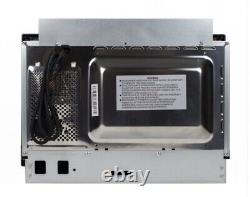 20L capacity gives you plenty of space and easily fits an average-size plate. The built-in design creates a neat, uniform look and frees up your worktop space. The black, unbranded design looks great in any kitchen setting. The built-in grill function lets you whip up the perfect cheese on toast in no time at all.
8 auto programmes that help take the guesswork out of your cooking. OVERALL DIMENSIONS: H38.8 x W59.5 x D34.5 cm.
This stylish microwave is a real multi-tasker when it comes to cooking. Not only does it function as a powerful 800W microwave, it also comes with the added convenience of a grill too! This means you'll be able to cook more of the meals you love, faster than ever before with enhanced taste and texture.
Plus, the built-in grill setting boasts a 1000W of power which makes it great for grilling toast, melting cheese and browning the top of your meals a lot quicker than you would using a conventional grill. The microwave's 20-litre capacity is great for your average household and offers plenty of space to fit an average-size dinner plate, so you'll be able to reheat your whole meal in no time at all on those nights when you're running home late. It offers 8 auto-cooking programmes to help take the guesswork out of re-heating things like meat, fish, potatoes and hot beverages to name but a few, so you don't have to worry about over-cooking your meals ever again. The microwave even has the ability to defrost by time or weight, which means you'll be able to take your food straight out of the freezer and have it defrosted, ready to cook in minutes.
This space-saving built-in microwave is designed to fit seamlessly into your fitted kitchen and free up your worktop area. It sits within your kitchen unit, out of the way, to help create a neat, uniform look in your kitchen. We suggest you double-check the measurements of your unit beforehand to make sure it's perfectly sized to fit. You'll find the full cutout dimensions of the microwave in the images above. Black front panel and trim.
Max 800 Watts - microwave. Max 1000 Watts - grill.
24.5 cm Glass turntable. Overall dimensions: H 38.8 x W 59.5 x D 34.5 cm.
Appliance may not be in original packaging, however, the unit is new and unused.